Upcoming events

Problems viewing this e-mail? Read this bulletin from our website
June 18: Art Deco World's Fairs
June 20: Walking Tour – West End
June 24: Fundraiser – Suzanne Anton Garden Party
July 7: An Evening at Maxine's Hideaway

---
International Art Deco Lecture Series:
The Exotic World of Art Deco World's Fairs
Thursday, June 18, 2009 | 7:00pm to 9:30pm
Location: The Vancouver Museum, 1100 Chestnut St.
Admission: $10.00; $5.00 for members of Heritage Vancouver & The Canadian Art Deco Society
Registration at 7:00pm, Presentations at 7:15pm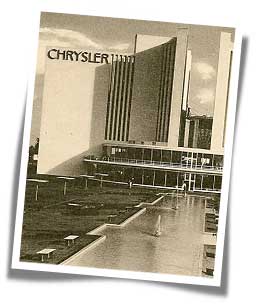 Heritage Vancouver and the Canadian Art Deco Society welcome another expert on Art Deco to our series of talks and events celebrating the Tenth World Art Deco Congress, being held in Montreal in May 2009.
Join us for "The Exotic World of Art Deco World's Fairs" presented by local media personality and historian Maurice Guibord. Maurice has long been fascinated with World's Fairs and the cultural and architectural traits that they either launch or reflect. The influence of these fairs, both in Europe and in the United States, led to the dissemination of the Art Deco idiom. This has been a fascination of Maurice's for the past few decades. Come and explore the evolution of this architectural form through the expositions of the 1920s and 1930s, as put forward by avant-garde artists, corporate giants, and even the Nazi regime.
To kick off the evening Maurice Guibord and Donald Luxton will give a brief overview of "memorable moments" of the May Art Deco Congress in Montreal.
Many people collect World's Fair memorabilia and souvenirs. You are invited to bring your treasures to share with the audience on this special evening.
For additional information, call 604 331 8430 or e-mail info@heritagevancouver.org
---
West End Remembered:
A Walking Tour of Vancouver's West End
Saturday, June 20, 2009 | 10:00am to 12:00pm
Location: Meet in front of the Manhattan Apartments, 784 Thurlow St. (at Robson)
Tickets: $15.00; $10.00 Heritage Vancouver members
Reserve early, as tour is limited to 30 people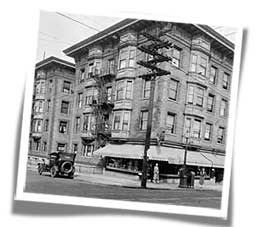 Join Heritage Vancouver on this lively walking tour filled with Abbott family stories of the West End. Isaac Vanderhorst, Heritage Vancouver Board Member and Museum educator will lead the tour.
Experience the West End through the eyes of Isaac's ancestors, the Abbott's, residents of this well-known neighbourhood during the 1920's and 30's. You'll hear about momentous events such as prohibition and the depression that marked the neighbourhood's past, long before the advent of today's high rises You'll see prominent, heritage buildings as well as a few jewels off the beaten path.
"West End Remembered" is part of Heritage Vancouver's "Salute to the West End" and sets the stage for "An Evening at Maxine's Hideaway" on Tuesday July 7th.
Registration & Tickets:
• Reserve early, as tour is limited to 30 people
• To register or for more info: info@heritagevancouver.org
• Click here to pay using Paypal or arrive early and pay before the tour starts (if tickets are still available)
---
Fundraiser: A Home and Garden Party
Hosted by Suzanne Anton, Vancouver City Councillor
Wednesday, June 24, 2009 | 5:30pm to 7:30pm
Location: At her home
Tickets: $100.00 (Tax receipts will be issued)
Special Guest: Mayor Gregor Robertson
Heritage Vancouver invites you to attend our 5th annual Garden Party hosted by City Councillor Suzanne Anton with special guest Mayor Gregor Robertson.
Join us for a spectacular evening of wine, hors d'oeuvres, and conversation in Councillor Anton's beautiful garden. This is a wonderful opportunity to meet and mix with elected officials, community leaders and heritage supporters while at the same time demonstrating your support for the many worthwhile projects undertaken by Heritage Vancouver.
Thanks to the generous contribution of our community sponsors the PumpJack Pub and Granville Entertainment, all proceeds will support Heritage Vancouver initiatives to encourage the preservation of Vancouver's built heritage.
Tickets must be purchased in advance:
On-line: via Paypal (Paypal account not required) Payment link >
Cheques: made out to Heritage Vancouver Society and mailed to:
Heritage Vancouver, PO Box 3336, Main Post Office, Vancouver, BC V6B 3Y3
* Upon payment, confirmation and details of the event will be sent.

For additional information, call 604 331 8430 or e-mail info@heritagevancouver.org
---
An Evening at Maxine's Hideaway (former Balthazar)
Tuesday, July 7, 2009 | Doors 5pm; event 5:30pm
Location: Maxine's Hideaway, 1215 Bidwell Street @ Davie
Tickets: $60.00; Heritage Vancouver Members $50.00
(Price includes tour, talk, buffet dinner and Candy Girls Cabaret Performance
Join Heritage Vancouver for an evening of history, myths and Broadway Burlesque at Maxine's Hideaway (formerly Maxine's beauty school). The evening begins with a talk by Heritage Vancouver President, Donald Luxton, "Maxine's and the West End in the Dirty Thirties."
After the talk, owner of Maxine's, John David Henderson, takes you on a tour of the building including the basement and second floor and titillates you with tales of murder, intrigue and famous visitors. This is followed by a hot buffet and a performance by Leigh Torlage's famous, "Candy Girls Cabaret". If interested, please feel free to come in 1930s fashions.
Tickets must be purchased in advance:
On-line: via Paypal (Paypal account not required) Payment link >
Cheques: made out to Heritage Vancouver Society and mailed to:
Heritage Vancouver, PO Box 3336, Main Post Office, Vancouver, BC V6B 3Y3
For additional information, call 604 331 8430 or e-mail info@heritagevancouver.org
Also, see: www.maxineshideaway.com

---
View all previous bulletins, or sign-up to receive them at: www.heritagevancouver.org/bulletins.html
Visit our website at www.heritagevancouver.org