Upcoming events – Celebrating the West End

Problems viewing this e-mail? Read this bulletin from our website
---
West End Remembered:
A Walking Tour of Vancouver's West End
Saturday, June 20, 2009 | 10:00am to 12:00pm
Location: Meet in front of the Manhattan Apartments, 784 Thurlow St. (at Robson)
Tickets: $15.00; $10.00 Heritage Vancouver members
Reserve early, as tour is limited to 30 people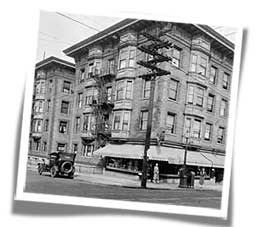 Join Heritage Vancouver on this lively walking tour filled with Abbott family stories of the West End. Isaac Vanderhorst, Heritage Vancouver Board Member and Museum educator will lead the tour.
Experience the West End through the eyes of Isaac's ancestors, the Abbott's, residents of this well-known neighbourhood during the 1920's and 30's. You'll hear about momentous events such as prohibition and the depression that marked the neighbourhood's past, long before the advent of today's high rises You'll see prominent, heritage buildings as well as a few jewels off the beaten path.
"West End Remembered" is part of Heritage Vancouver's "Salute to the West End" and sets the stage for "An Evening at Maxine's Hideaway" on Tuesday July 7th.
Registration & Tickets:
• Reserve early, as tour is limited to 30 people
• To register or for more info: info@heritagevancouver.org
• Click here to pay using Paypal or arrive early and pay before the tour starts (if tickets are still available)
---
An Evening at Maxine's Hideaway (former Balthazar)
Tuesday, July 7, 2009 | Doors 5pm; event 5:30pm
Location: Maxine's Hideaway, 1215 Bidwell Street @ Davie
Tickets: $60.00; Heritage Vancouver Members $50.00
(Price includes tour, talk, buffet dinner and Candy Girls Cabaret Performance
Join Heritage Vancouver for an evening of history, myths and Broadway Burlesque at Maxine's Hideaway (formerly Maxine's beauty school). The evening begins with a talk by Heritage Vancouver President, Donald Luxton, "Maxine's and the West End in the Dirty Thirties."
After the talk, owner of Maxine's, John David Henderson, takes you on a tour of the building including the basement and second floor and titillates you with tales of murder, intrigue and famous visitors. This is followed by a hot buffet and a performance by Leigh Torlage's famous, "Candy Girls Cabaret". If interested, please feel free to come in 1930s fashions.
Tickets must be purchased in advance:
On-line: via Paypal (Paypal account not required) Payment link >
Cheques: made out to Heritage Vancouver Society and mailed to:
Heritage Vancouver, PO Box 3336, Main Post Office, Vancouver, BC V6B 3Y3
For additional information, call 604 331 8430 or e-mail info@heritagevancouver.org
Also, see: www.maxineshideaway.com
---
Thank you for your support!
View all previous bulletins, or sign-up to receive them at: www.heritagevancouver.org/bulletins.html
Visit our website and view all upcoming events at www.heritagevancouver.org
Not a member of Heritage Vancouver? Join!