Upcoming events
Problems viewing this e-mail? View on our website:
www.heritagevancouver.org/bulletin/bulletin_201200328.html

+ Howard Hughes at the Bayshore: 40th Anniversary
+ Other events


---
+ Howard Hughes at the Bayshore:
40th Anniversary Celebration
Wednesday, April 4, 2012 | 5:30pm to 7:00pm
Location: Meet at the Westin Bayshore, 1601 Bayshore Drive just east of the main entrance
Tickets: $20; Heritage Vancouver members $15
via Eventbrite: hvs-hughes.eventbrite.com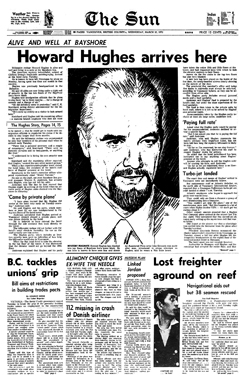 Join Heritage Vancouver for a tour of the Bayshore and celebrate the 40th anniversary of Howard Hughes legendary visit to Vancouver. Aaron Chapman, local historian, writer and self-confessed "Hughes-ologist" will retell the fascinating story of Hughes' arrival in Vancouver.
Chapman will separate the fact from fiction and tell stories about some of the strange things that occurred during Hughes' stay. He will be joined by some old Bayshore staff who were there when Hughes was at the hotel. If you can't afford the $1000 a night for the Hughes suite—this is perhaps your only chance to explore the famous hotel suite, experience one of the most exclusive views in all of Vancouver and hear the incredible and little known story of the city's strangest hotel guest.
40 years ago one of the strangest hotel visitors arrived mysteriously in Vancouver. When word leaked out, it made international news and media camped out at the Bayshore Hotel hoping to see him—but the hotel guest never showed his face. His name was Howard Hughes. It was 1972 and Hughes—the movie producer, the aviator, one of the richest men in the world had not been seen in public for years. Yet he walked into the hotel on his own without being noticed. Rumors swirled as to why he was here. What was he doing? Who were the strange security staff that took over the hotel and guarded him with a security detail of that of a president or prime minister? Was it true he was sneaking out at night to drive around Stanley Park?
His stay at the hotel is still remembered at the Westin Bayshore Hotel, and today the Howard Hughes suite is the most exclusive suite the hotel offers.

Tickets
Purchase your tickets early as spaces are limited and it will sell out.

• Online: Purchase via Eventrite hvs-hughes.eventbrite.ca
• Cheque: Made out to Heritage Vancouver Society, PO Box 3336, Main Post Office, Vancouver, BC V6B 3Y3. Please ensure the mailed payment reaches us early enough, and send us an e-mail, so we can hold your spot until your cheque arrives.
For additional information events@heritagevancouver.org
PIBC 1.5 LUs of Organized CPD
---
+ Other events

Walking Tour and Beer Tasting Event:
Industrial History of South East False Creek
Saturday, March 31, 2012 | 1:00pm to 3:00pm
Tickets: $40.00; Heritage Vancouver Members $35.00
Full details | Online payment via Eventbrite

Annual Top Ten Endangered Sites Bus Tour
Saturday, May 5, 2012 | 1pm to 5pm
Tickets: $30.00; Heritage Vancouver Members $25.00
Full details | Online payment via Eventbrite

---
Thank you for your support!
• Make a tax-deductible donation:
• Join Us! Become a member of Heritage Vancouver Society
• E-bulletin sign-up to receive event listings, alerts and heritage info
• All upcoming events: www.heritagevancouver.org